Beholding and Becoming | Part 2
I imagine the backstory of David's life was full of many wild and wonderful encounters shaping his view of God. How did the Lord reveal Himself to him when he was all alone protecting and defending sheep? What whispers of the voice of God rose to crescendo within his heart, as he stood guard on a darkened hillside beneath the starlit sky? Could that same night have brought to David the inspiration to sing:
"The heavens proclaim the glory of God. The skies display his craftsmanship. Day after day they continue to speak; night after night they make Him known. They speak without a sound or word; their voice is never heard. Yet their message has gone throughout the earth, and their words to the world. God has made a home in the heavens for the sun. It bursts forth like a radiant bridegroom after his wedding." –Ps. 19:1-5
Notice how David poetically moves through celestial heights personifying God's glorious galactic creation; declaring them to speak with a voice we cannot hear, and how the heavens provide a 'home' for the sun. He exclaims that this heavenly message has reached the entire earth, (and the 'world' of men), making God known! Then—and this is what I love best about this passage—David compares the orbit of the earth around the sun to "a radiant bridegroom after his wedding." What's burst forth upon David's heart is a revelation of God's beauty, emotions, affections and His burning desire for us!
I am convinced that David became so preoccupied with his discovery of God's beauty that it's what fueled the night and day prayer ministry that he led as Israel's king. He understood that God's people could joyfully sustain the king's addition of worship and prayer to their temple worship. He came to know that the power to engage in night and day prayer is truly found in having a heart that longs to ascend and soar in God. Such longings come by way of intimate encounters with the Living God that lead us to know Him as the One who delights or takes pleasure in His people.
Having this revelation about how God really feels about us is essential to recognizing Him as a tender loving Father and beginning to see Jesus as a passionate Bridegroom. This new view of God leads to a new view of who we are in Him. Our spiritual identity is first found as the beloved of God and we then become lovers of God empowered by the confidence and assurance that He delights in us!
"For the Lord takes pleasure in His people; He will beautify the afflicted ones with salvation."—Ps.149:4
Our new view of God now takes on the perspective of a bride. This is our new spiritual identity—the bridal paradigm—from which we now see our Heavenly Father and Jesus, our Bridegroom King. This new point of view forever changes the way we see life and more importantly, how we interpret God's Word:
"Regarding Zion, I can't keep My mouth shut, regarding Jerusalem, I can't hold My tongue, until her righteousness blazes down like the sun and her salvation flames up like a torch. Foreign countries will see your righteousness, and world leaders your glory. You'll get a brand new name straight from the mouth of God. You'll be a stunning crown in the palm of God's hand, a jeweled gold cup held high in the hand of your God. No more will anyone call you Rejected, and your country will no more be called Ruined. You'll be called Hephzibah (My Delight), and your land Beulah (Married), because God delights in you and your land will be like a wedding celebration.
"For as a young man marries his virgin bride, so your Builder marries you, and as a bridegroom is happy in his bride, so your God is happy with you."—Isaiah 62:1-5 
This is who we are…this is who we're meant to be.
Knowing God as Father is much more than the things we know about Him.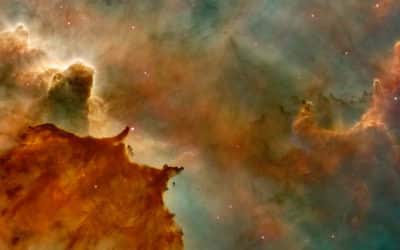 Heavenly Father, my desire is to know You more; to hunger and thirst for You like David did.