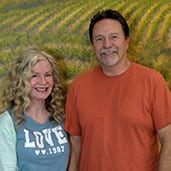 Jim & Cindy Douglas started out as volunteers in 2013, then joined the leadership team in 2014, helping launch and establish the foundation for the Healing Rooms House of Prayer. Having served as elders in a local Vineyard Church, and Jim's former ministry as a Senior Associate Pastor, they naturally began mentoring and pastoring many of the ministry's emerging young leaders—living in fulfillment of an often repeated prophetic word over their lives that they would be spiritual parents to many sons and daughters.
The Lord envisioned Jim to focus more of his mentoring work on spiritual leadership while continuing to build teams for the House of Prayer and pastoring several younger staff members and leaders. Out of this ministry came the ideas for developing an internship program for the Healing Rooms Apostolic Center (HRAC), and the Ignite Internship began in 2017.
Now in its second full year, the Ignite Internship is their primary ministry at the center, while they continue to pastor and mentor others on staff and in the larger faith community living on the Central Coast. Jim also assists—at the direction of the HRAC's Board—on various administrative projects.