I remember the day I caught the first glimpse of my wife. (I can say it this way because she's now been my sweet bride for almost 38 years.) I was in a business meeting with the owner of a restaurant & bar when she entered the room on her way to somewhere else and I completely lost my train of thought! Without hesitation, I allowed my unbridled heart to interrupt the conversation to ask who she was and went as far as to ask if she was married!
There is no denying my attraction to her was first kindled by her beauty. From that moment on I was smitten, overtaken by the desire to pursue her and to capture her heart. All of my other interests paled in comparison. Whether at work or any place else, she was always on my mind. I discovered things about her through a mutual friend even before we actually met and once we finally did meet, all it proved to me was that she was the one for me!
Two years later we were married, and when I look back on those days, I see just how single-minded I was and how relentless I was in my pursuit of her heart. This could be a window into God describing King David as a man after His own heart. Listen to David's own words:
"One thing I have desired of the Lord, that will I seek: that I may dwell in the house of the Lord all the days of my life, to behold the beauty of the Lord, and to inquire in His temple." –Ps.27:4.
David, moved by his desire, sought after one thing above all others and that was to gaze upon the beauty of the Lord and to learn more about Him. Somehow, David's heart was already driven to pursue a deeper intimacy with God. I believe that he had many encounters with the Lord while caring for his family's sheep and we can easily see the many instances during his life—after Samuel anointed him king—but before he actually became Israel's king, where David walked out his relationship with God.
Whether alone in the wilderness or through the years before becoming king, David experienced God's beauty: "The heavens declare the glory of God; and the firmament shows His handiwork. For You are my rock and my fortress; therefore, for Your name's sake, lead me and guide me. Oh, how great is Your goodness, which You have laid up for those who fear You, which You have prepared for those who trust You in the presence of the sons of men! Oh, taste and see that the Lord is good; blessed is the man who trusts in Him! –Ps. 19:1, 31:3, 19; 34:8
As David's relationship with God grew, he began to understand God's ways and that's what led him to know what God is like. You can see how the Lord revealed Himself to David throughout the Psalms and it's this progressive revelation that moved him to become a pursuer of one thing. David's desire was the dream of his heart.
More than the dream of being king, a great warrior, a fantastic songwriter, wealthy, famous and admired… David's main heart dream was to be given wholeheartedly to the quest of encountering the beauty of the Lord—number one—and to inquire of Him to receive divine information and prophetic instructions about how to live, act and fulfill his destiny within God's great story.
Although my courtship analogy may be a weak comparison to pursuing intimacy with God, I think you can relate to the main point of what it's like when our hearts are moved by love. What I've found—after cultivating nearly 38 years of marriage—is that a loving relationship grows to such depths of affection and awareness of another person's heart and soul, the joys of friendship, companionship and intimacy reach levels of pleasure and happiness words can almost describe:
"As the deer pants for the water brooks, so pants my soul for You, O God. My soul thirsts for God, for the living God. Deep calls unto deep at the noise of Your waterfalls; All Your waves and billows have gone over me. The Lord will command His lovingkindness in the daytime, and in the night His song shall be with me…as for me, I will see Your face in righteousness; I shall be satisfied when I awake in Your likeness." –Ps. 42:1-2; 7-8; 18:15
Heavenly Father, my desire is to know You more; to hunger and thirst for You like David did. Overtake my heart with waves of Your love. Pour out Your affections like a cascading waterfall over my life. Fill my heart with Your lovingkindness. I long to hear You sing over me with rejoicing. Set my feet upon the path of righteousness for Your namesake and I will be satisfied when I become more like You…In Jesus' name, amen.
Knowing God as Father is much more than the things we know about Him.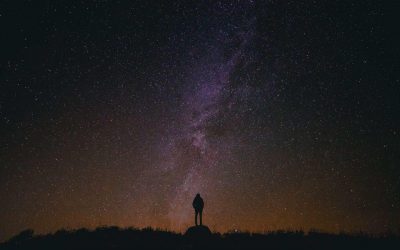 What whispers of the voice of God rose to crescendo within David's heart, as he stood guard on a darkened hillside beneath the starlit sky?